From the Farmers' Market in Stroud on a Saturday morning to the fabulous food opportunities offered in Nailsworth, you will have as good food as you choose. Below are just a couple of alternatives - there are many, many more:
On the edge of of the National Trust's Rodborough Common, their ice cream parlour shop serves more than 100,000 happy customers per year. The ice cream is wonderful, and the flavours are simply divine. Well worth the walk!
A relatively new restaurant in Stroud, Dinner at 6 is a great cafe with wonderful local and seasonal food - always well worth visiting to see what is on the menu.
Situated a 5 minutes drive (30 minute walk) down in Nailsworth, the Hobb's House bakery has a great cafe upstairs, but you may not get past the shop downstairs with its' fabulous breads, cakes and pastries. You might even have heard of the owners, known for their televison series "The Fabulous Baker Boys".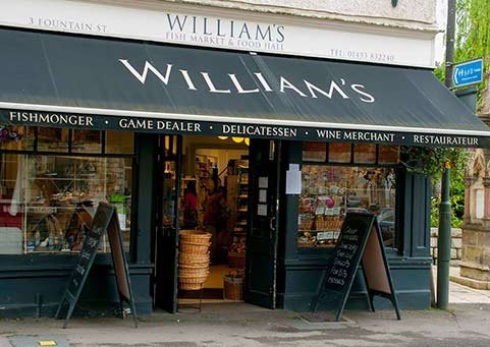 William's Food Hall & Oyster Bar
Also in Nailsworth, William's Kitchen is a great place for a thoroughly wonderful lunch - with many options largely based upon their enviable selection of fresh fish and seafood (the Oyster Bar is pretty special). They also have a great deli with excellent cheeses and an assortment of special fruit and vegetables.